Our mission is to become the industry leader in the American micro-mobility market.
Join The Movement
---
The light electric vehicle industry, mainly e-bikes is fast becoming the leading form of EV sales not only in the United States but in Europe as well *1.
Electric 2-wheel and 3-wheel products, including micro-mobility, are a perfect form of personal transportation. E-bikes do not require registrations, insurance, or licenses and can ride wherever traditional bicycles can ride. E-delivery vehicles, when developed as e-bikes or e-trike, also follow traditional bicycle regulations and are the perfect delivery option for metropolitan areas.

*1 According to data released by LEVA, the Light Electric Vehicle Association, the US saw nearly 790,000 e-bike imports in 2021. It was not only an increase of 70% higher than 2020 but surpassed the 652,000 electric cars and plug-in hybrids sold in 2020 according to BloombergNEF. CONEBI, the Confederation of the European Bicycle Industry expects the European e-bike market to grow to 7 million units annually by 2025 with Bike Europe Publication believing the number will be closer to 10 million. To put that in perspective, Europe for 2021 had approximately 12 million cars registered according to the ACEA European Automobile Manufacturers' Association with about 4.5 million being electric cars and hybrids.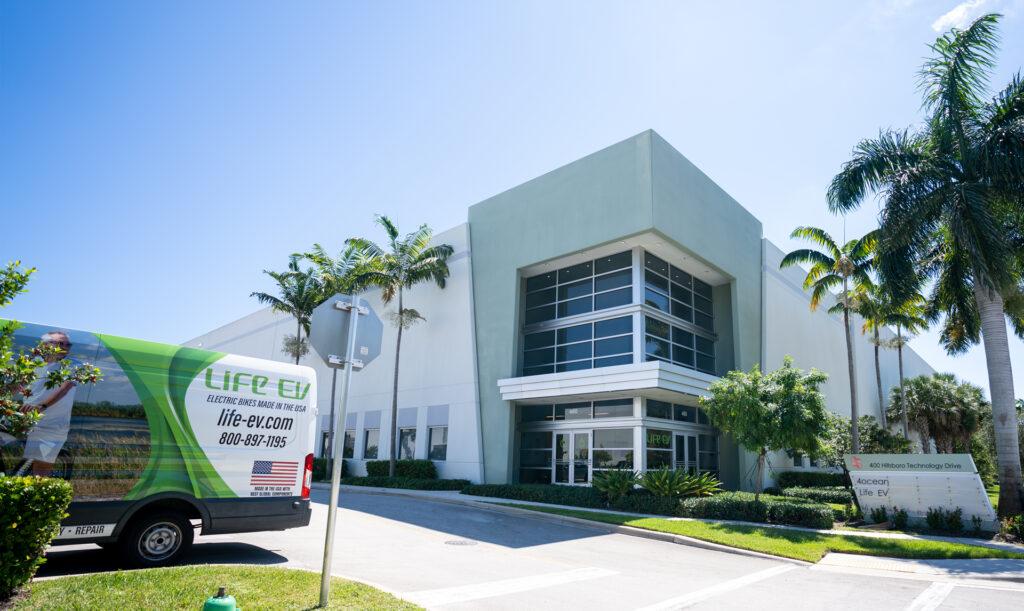 Why Life EV?
---
Where e-bikes and light electric vehicles are becoming a leading form of transportation in the World, most e-bikes sold in the United States are imported from Asia.

Importing e-bikes and similar vehicles from Asia may carry added duties & tariffs, middle layer margins, increased freight in addition to inconsistency in components, damaged shipments, quality control issues, sourcing delays, and the freshness of inventory as pre-built e-bikes' batteries age.

The founders of Life EV are considered leading experts in the industry having originally founded the largest USA manufacturer of e-bikes under FTZ production in the United States during the past decade. Life EV, the manufacturer acquired key assets from that enterprise in the year 2020.

Designing and developing proprietary LEVs in the USA and sourcing components direct from the world's leading suppliers and fabricators at the component level eliminates the middle margins and allows for a consistently higher quality product at lower cost with better availability. Production in the USA allows for reduced freight cost, real-time customization, and superior just-in-time fulfillment with no seasonal price reductions required.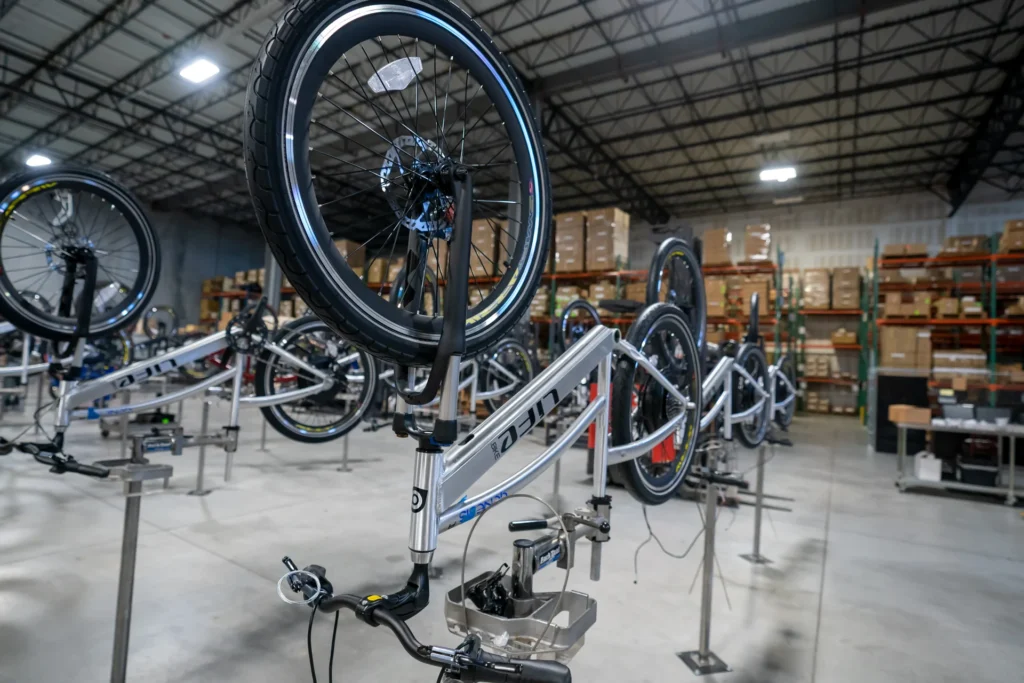 Get Down to Business
---
Life Electric Vehicles Holdings, Inc. dba Life EV Group is a light electric vehicle company, incorporated in Nevada and headquartered in Broward County, Florida USA. Having recently undergone the transition into becoming a publicly traded company, we are in the launching and acquisition phase. Our business model includes the launching, acquisition, and consolidation of multiple brands of e-bikes, e-trikes, e-scooters, and light EV companies to become an industry leader in the American micro-mobility market. In addition to ready-to-ride electric vehicles, we will be a supplier of individual components including motors, batteries, chargers, controllers, and EV parts to 3rd party manufacturers and for distribution not only in the USA but worldwide.

The first acquisition is to complete an equity stake in Life Electric Vehicles, Inc., aka Life EV, a related company that is the majority shareholder of Life EV Group.
Life EV has established its own brand and is a full-service USA manufacturer of light electric vehicles, with a 32,000 SF manufacturing facility in Florida, USA. Life EV holds multiple trademarks and 2 USPTO-approved Patents with additional Patents planned.
In addition to proprietary brands, Life EV Group continues to be in negotiation to acquire multiple e-bike and e-scooter companies in a roll-up fashion having recently signed 4 Letters of Intent to acquire either a controlling interest or 100% equity in these companies.
These companies, upon being acquired, will have their design, development, and production moved to the USA, and eBikes manufactured by our related company, Life EV, under an FTZ process on US soil. The components will be supplied at the direct fabrication level from the industry's leading worldwide suppliers, allowing for better quality, pricing, and tariff controls. Inventory control, assembly, quality control, and distribution will be fulfilled under the same roof for all brands. This will result in reducing overhead and simplifying production and distribution for each brand.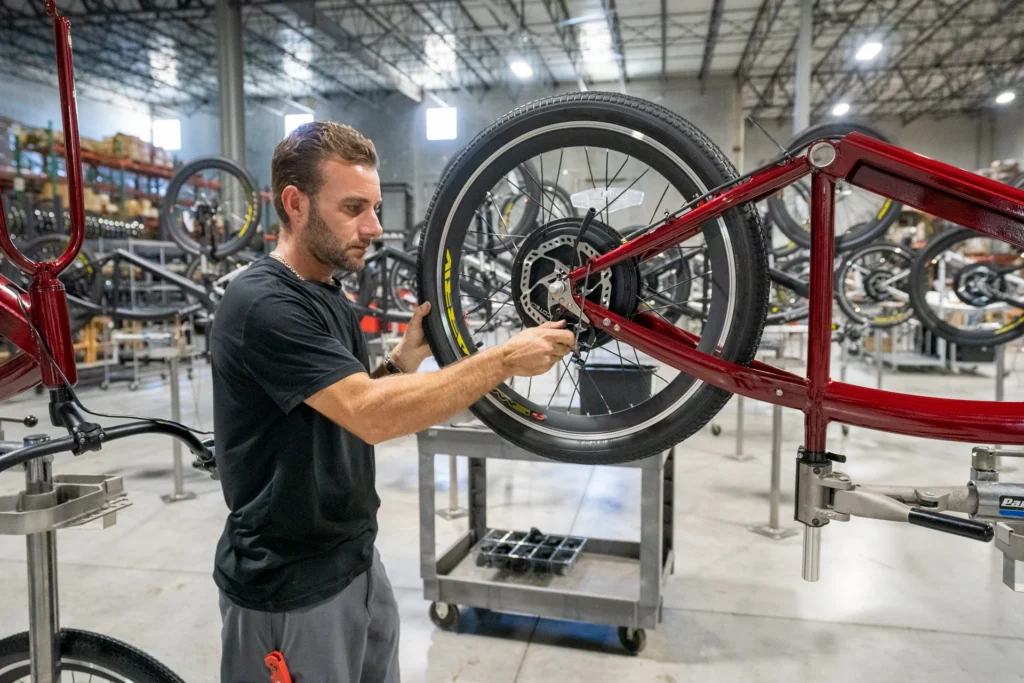 Want to Learn More
Complete the form below, and we'll reach out to you with the information requested.